---
---
Steve Dunham's Trains of Thought
"Commuter Crossroads"—commuting by transit and trolley
Commuter Crossroads main page
Commuting by bus
Commuting by train
Commuting by bicycle and walking
Commuting by car
More Commuter Crossroads topics


---
Metro's Deadly Year
By Steve Dunham
This column appeared in the Fredericksburg, VA, Free Lance–Star on Jan. 3, 2010, and is reproduced with permission.
The Washington Metro just struggled through its worst year ever. The low point came on June 22, when two trains collided on the red line near Fort Totten in Washington. The crash killed nine people and injured about 75 others.
The worst accident in Metro's 33-year history was apparently due to faulty sensors that failed to detect a stopped train and allowed the computer-driven train following it to plough into the stopped train from behind. Evidence indicated that when the operator saw the other train ahead, she took control away from the computer and applied the emergency brake, but not in time to avert the disaster.
Metro was designed to have its trains run by computer, with the operators mostly making announcements and opening and closing the doors. Until a few years ago they were generally forbidden to operate the trains manually, until a computer-driven train in an icy railyard failed to stop before reaching the end of the track and crashed, killing the operator of the train, which was carrying no passengers. After that, Metro starting granting the operators more latitude to personally take control of the trains, and after the June disaster, the transit authority switched to entirely manual operation, for fear that other track circuits would mislead another onboard computer into thinking that the track ahead was clear.
Another technology problem haunting Metro is that its oldest cars—dating from the system's inception—are not as crash-resistant as newer ones. To help reduce the danger in any future crashes, after the Fort Totten accident Metro started placing older cars in the middle of its trains and newer, stronger cars on the ends where they would take the impact in a crash.
The Fort Totten wreck was the first time a Metrorail passenger died in more than 27 years, and only the second time in the agency's history. In 2009, the deaths on the rails were combined with a rash of suicides on the tracks (at least nine in 2009, compared with only two in each preceding year) and a spate of accidents involving Metrobuses and pedestrians.
A year ago, an anonymous reader wrote to scold me for criticizing Metro. Didn't I know it was the best mass-transit system in the country? At one time that might have been true. Being under the close watch of Congress has usually meant that Metro has gotten as much money as it needs to supplement the funds from the jurisdictions it serves. Yet it hasn't had the money to replace its oldest railcars, which wasn't a big issue until nine people died in a wreck. Indeed, the bigger management fault is probably overconfidence in the computer operation of the trains.
A group called Metroriders.org has for years been calling for dedicated funding for Metrobus and Metrorail, rather than have the agency go hat in hand to its sponsors each year. Regular annual funding could let Metro improve maintenance and safety.
New railcars, however, are typically purchased with federal capital grants for which many transit agencies compete. With mass-transit systems starting and expanding across the country, this is one area where the government needs to provide money commensurate with the need and the benefits. Overall transportation safety is one area that would benefit. I'm sure that if a large proportion of Metro's millions of passenger trips each year had been taken by car instead, a lot more than nine people would have died in the past 27 years, and the same principle applies to the many other cities that are expanding rail transit.
Long before 2001, the Washington Metropolitan Area Transit Authority was an industry leader in security against crime and terrorism. With good management, it can once again be a leader in safety too.
---
Metro Tries to Cope With Inauguration Crowds
By Steve Dunham
This appeared in the Fredericksburg Free Lance–Star on February 1, 2009, and is reproduced with permission.
Metro (the Washington Metropolitan Area Transit Authority) set another record on Inauguration Day: over one and a half million one-way trips, so about three quarters of a million people used Metro on Inauguration Day, two thirds of them on Metro's rail system, the rest on buses. Unfortunately, the Metro rail system wasn't prepared to handle the volume.
I didn't think that tens of thousands of people would be heading onto the National Mall just as the sun was coming up, more than four hours before the inauguration, with the temperatures well below freezing. I was wrong. When my Virginia Railway Express train passed the Metro station at Franconia-Springfield around 7:30 a.m., the Metro platform was packed with people waiting for a train.
When I got to L'Enfant Plaza in Washington, I and the other passengers trying to board Metro could barely enter the station because of the crowd trying to leave. Metro's blue, orange, yellow and green lines cross here, and even though the station has several exits, the concourse was wall-to-wall people trying to get out of the station. After about 15 minutes of inching ahead, I reached a platform and boarded a train to Virginia to go to work. There was plenty of room on the outbound train; I even got a seat. But I could see that every Metro train heading into Washington was stuffed with people, and crowds were building up on the station platforms in Virginia as trains arrived full and the people waiting at the station couldn't get on board.
This would have been a good time for Metro to call on VRE for help. A couple of eight-car VRE trains dispatched from Washington to Franconia-Springfield could have picked up at least 1,500 passengers and allowed Metro to send a couple of empty trains up the line to collect the waiting passengers.
What Metro did—and it helped—was to take buses and turn them into free shuttles from jammed stations such as Crystal City (in Arlington, Va.) to the Pentagon, where people could walk across the bridge to Washington. What Metro shouldn't have done was take buses already carrying passengers and divert them. When I boarded a bus at Crystal City, the driver told the passengers that he had to load up and detour via the Pentagon. That wasn't bad: it was only a mile out of the way, and it would help a lot of other people get where they were going. Then our bus detoured to Washington. Then the driver told us we were going back to Crystal City to become the next bus to Tyson's Corner (where we originally were supposed to go). Then, after 40 minutes on this bus riding to Washington and back, we learned that it was becoming a Pentagon shuttle, and none of the Metro people could tell us when or whether a bus would depart for Tyson's. One lady who was trying to get to work was visibly upset. I started walking (I was going only about three miles, to Shirlington).
Metro had a crisis on its hands, with overcrowded platforms and people unable to board trains. But part of that was due to so-called security measures. Two Metro rail stations at the Mall—Archives and Smithsonian—were closed, funneling record-breaking crowds into fewer stations with fewer stairways and escalators. I don't believe that this made us or Obama any more secure, and it contributed to unsafe conditions for passengers.
Finally, VRE could have done better too. Originally it wasn't going to let its regular passengers ride to work unless we purchased an extra $25 ticket. Because it planned to carry only people going to the inauguration, VRE decided to skip all stations between Lorton and Washington, forcing everyone to travel via Washington, which was already overcrowded. VRE could have made other stops: the VRE train I rode home made an unscheduled stop in Alexandria and still got to Fredericksburg on time. However, aside from making it unnecessarily hard on its passengers who were going to work, VRE did OK. Metro could have done a lot better, and it's been setting ridership records every year. It will have another record-breaking day before long, and Metro needs to be better prepared.
---
Once Again, Metro Aims for Dulles
By Steve Dunham
This column appeared in slightly different form in the Fredericksburg, VA, Free Lance–Star on June 22, 2008, and is reproduced with permission.
The Washington Metro is once again aiming for Dulles International Airport. The project has been off and on track for 44 years, and the need has never been greater. The airport is short on public transportation, and so are the places in between. Herndon has been wanting Metrorail for years, and Tyson's Corner, designed for road access only, is plainly not equipped for the new era of increased public transportation use.
A year ago, the Metro extension to Dulles appeared to have everything going for it. Local funding was available from the state, the counties, and the Dulles Toll Road revenues. The Federal Transit Administration had approved the environmental impact statement. The only thing missing was the federal share of construction funding, which was less than 25% of the cost but still a large amount because the whole project would cost $3 billion. The federal share for Dulles rail looked certain after the project's costs were reduced, notably by planning to put the line aboveground, rather than in a tunnel, through Tyson's Corner.
In January of this year, the Federal Transit Administration pulled the rug out by announcing that the project did not qualify for federal assistance after all. The Toll Road revenues might be overestimated, said the feds; the bonds for the project created too much debt; the Airports Authority might not be able to manage the project; the Washington Metro wasn't doing a good enough job maintaining its existing system and fleet of trains; and, from the Washington side of the Potomac, the whole thing didn't look like such a hot idea after all.
The Federal Transit Administration's moving goalposts are not unique to the Dulles rail project. Winning FTA approval for Norfolk's light rail line required many changes from the original concept of the project, according to Randy Wright of Hampton Roads Transit. The FTA considers cost per rider, cost per mile, and other measures, but the standards keep changing, he said. But Norfolk did not give up, and two years from now Norfolk residents, commuters and visitors should be riding light rail: The project received a full funding grant agreement from the FTA in February 2007, and groundbreaking took place in December.
Like Norfolk, Northern Virginia was not giving up. The governor said he would work to resolve all the FTA's concerns and make the project happen. Standing with him were Metro, the Greater Washington Board of Trade, the Dulles Area Transportation Association, the Dulles Corridor Rail Association, the Committee for Dulles, the Washington Airports Task Force and the Loudoun County, Fairfax County, Greater Reston and Dulles Regional chambers of commerce. More than 1,300 businesses, organizations and individuals signed an online petition—"Dulles Rail Now"—to have the FTA reevaluate the project and calling for rail construction this year.
And in a decision that all the politicians swear is not political, the FTA in April changed its mind again: the Dulles rail project does meet federal standards after all. It committed $159 million for final design, though warning that construction money would not be released until its concerns about management at the Washington Metropolitan Area Transit Authority and the Washington Airports Authority were resolved.
With so much political and grassroots power pushing for rail to Dulles, those authorities are likely to implement any changes demanded of them. Even if construction begins in the next year, however, a ride on the Metro to Dulles is still years away. Phase I would take several years and would build the line from Falls Church through Tyson's Corner to Riehle Avenue in Fairfax County; Phase II—rail all the way to Dulles International Airport—would take years longer. A possible extension further into Loudoun County is at this point mostly a dream. Yet higher gas prices creating a tidal wave of demand for more public transportation could put the Dulles Metro extension and other rail transit projects into full throttle.
---
The Great Society Subway
By Steve Dunham
This column appeared in slightly different form in the Fredericksburg, VA, Free Lance–Star on April 27, 2008, and is reproduced with permission.
The Washington Metro, conceived in the 1960s, was designed to be the premier rapid transit system in the United States, not just moving people or steering development patterns, but displaying a certain elegance. Even the District of Columbia's Commission of Fine Arts, which had a say in the design of all public works, was involved, insisting, for example, that Metro's signature curved vault station design be used in the stations that were dug initially as underground boxes.
In The Great Society Subway: A History of the Washington Metro (Baltimore: Johns Hopkins University Press, 2004, 283 pp.), Zachary M. Schrag tells the story of how Metro came to be and how it developed, relating it to the city and society, "how an entire metropolitan area faced its choices about transportation."
Washington, D.C., was one of the first cities to choose rapid transit rather than more highways within its boundaries, but at first it was not an easy or popular choice. Travel by automobile was ascendant, and public transit ridership was falling. The Interstate Highway System plan called for numerous highways through and around the District of Columbia. Washington architect Louis Justement proposed (in Schrag's words) "a city shorn of many or most of its houses, shops, and side streets, filled instead with large apartment complexes, drive-in shopping centers, and high-speed arteries linked to feeder roads by cloverleaf intersections. Justement promised to end congestion and provide ample parking everywhere." The 1959 Metropolitan Transportation Study Plan assumed, in the words of National Capital Planning Commission member McKim Norton, "a fast rush-hour commute" by car anywhere in the region. Justement's ideas came to partial fruition in the Southwest redevelopment, which in the 1950s and 1960s bulldozed the area's slums and replaced them with present-day L'Enfant Plaza and its environs.
Urban renewal fetched up on the Inner Loop, however. Not today's Inner Loop (the inside circle of the Capital Beltway) but an additional, inner beltway, this and other limited-access highways would have been built through much of central Washington.
The plan "awoke the wrath of District residents," and the city's response was to fight the highway construction and push for rapid transit instead. Yet the new National Capital Transportation Agency was small and weak, "designed to engineer a modest rapid transit system and not rock the boat," though even this much was strongly opposed in some quarters: Arlington's planning director in 1962 claimed that "rapid transit for the Washington Metropolitan Areas simply will not work"; he thought helicopters would be more practical.
To create anything more than a bobtailed system of rail routes within the District of Columbia, even with the federal government providing two-thirds of the funding, Metro had to reach an agreement with Virginia and Maryland cities and counties, which would pay for and receive service. An alternatives analysis showed that a bigger system would actually be cheaper to operate.
As design of the Metro system proceeded, controversy over the highways continued. In 1966, a report by Arthur D. Little, Inc., "submitted a blistering critique of highway planning." Little found that highway planning was "marred by inter-agency conflict and a lack of coordinated effort and direction," with "only the most superficial attempt at area-wide comprehensive planning for long-range goals." It said that "freeways have generally created more problems than they have solved" and recommended against "a major commitment to the highway system." However, highways through Washington had their staunch defender in Congressman William Natcher of Kentucky, who held up Metro design and construction funding, demanding that the Three Sisters Bridge and other road projects be completed.
But Alan Boyd, the first Secretary of Transportation, was willing to listen to highway opponents, and eventually (in 1979) Natcher himself lost power.
Metro was supposed to run in the black and pay some of its own capital expenses too, but as the years progressed, it became evident that revenues would not fully cover operating expenses, especially after Metro absorbed local bus operations in 1973. It needed subsidies, and its capital funding was a separate requirement. Even decades after its founding, some continue to question its value, and it has had numerous problems in its operations, but overall it is a popular, safe, efficient system, and, according to many, well worth what it cost to build and operate.
---
Dulles Rail Project Moves Ahead
By Steve Dunham
This column appeared in the Fredericksburg, VA, Free Lance–Star on Aug. 8, 2004, and is reproduced with permission.
The Metro rail line to Dulles International Airport is changing from a dream into a plan. Last month the Federal Transit Administration granted almost $59 million for preliminary engineering of the line between Reston and Falls Church (where it would join the existing Metro Orange Line). If money for construction follows, trains could begin rolling to Reston in 2010. Phase II would take the line all the way to Dulles, perhaps 5 years later.
What does this mean for the Fredericksburg area? Have you ever driven to Dulles? From our house in Massaponax, it's about 70 miles to Dulles. Under good conditions it's a two-hour drive. The trouble is, conditions are often bad and, worse, unpredictable. Taking Virginia Railway Express and Metro to Dulles would be a longer distance but maybe not take any longer and almost certainly be more predictable. And that's considering only the one-way trip. If you're taking someone to the airport or picking someone up, that's an often grueling drive of more than a hundred miles round trip.
When a relative flies to Virginia for a visit, I say, "Please fly to Reagan National Airport or Baltimore-Washington International." Then I leave the car at home and take the train to the airport. I bring an extra VRE ticket when I meet my visitor, and we take the train to Fredericksburg (the VRE ticket is also good on most Maryland Rail Commuter trains between Washington and BWI). Air travel has gotten to be enough hassle without having to drive to the airport too. I think a lot of travelers in the Fredericksburg area will feel the same way.
The Dulles Metro line will intersect VRE's Fredericksburg line at L'Enfant Plaza in Washington, D.C. Transfers from one line to the other—especially with luggage—are an inconvenience to travelers, but I would find just one transfer bearable and certainly preferable to driving.
However, rail service to Dulles is more than 10 years in the future. The Phase I service to Reston has something to offer Fredericksburg too: It will open up new commuting possibilities. When I look at the employment ads and see that a job is in Tyson's Corner or Reston, I stop reading. I could get to those places by transferring from VRE to a Metro bus at Alexandria or Crystal City, but the trip to work would take even longer than my present commute to Shirlington. Once Metro rail reaches Reston, there would be faster, more frequent service, and I would at least consider traveling farther to take a good job.
A lot of people are looking forward to riding the Dulles line. Despite federal reluctance, now being overcome, Virginia has embraced the long-overdue rail service. While transportation projects elsewhere have been hampered by people saying, "Not in my back yard," the Dulles line has been welcomed locally, with the Dulles Corridor Rail Association (a citizens' group) being a champion for the line, insisting on rail rather than bus service. In March, the association's president, Patty Nicoson, addressed the annual meeting of the Virginia Association of Railway Patrons (another citizens' group), discussing progress on the project. She explained that the town of Herndon balked at paying its share toward Phase I of the Dulles service only because it was concerned because Phase II isn't guaranteed to be built. Herndon, like other communities along the line as far out as Loudoun County, wants rail rapid transit.
So far, popular demand has overcome the doubts of politicians and transportation planners and has gotten the Dulles rail corridor project under way. I'm willing to bet that popular demand will get the rail line built all the way to the airport.
---
Metro Communications Fall Short
By Steve Dunham
This column appeared in the Fredericksburg, VA, Free Lance–Star on Jan. 11, 2004, and is reproduced with permission.
Riding Metrobuses is complicated enough. When schedules change without warning, it gets downright frustrating.
Riding Metro's rail lines is fairly easy. You can see most of the stations from blocks away, the trains run pretty much all the time between dawn and midnight and you can just show up and expect a train within minutes. A color-coded map shows all hundred or so stations.
The Metro bus system is much more complicated—finding the bus stops, for example. A lot of them are grouped at Metrorail stations and are fairly easy to locate. Away from the rail stations, though, it gets harder. When my employer moved to Shirlington a few years ago, I used Metro's bus map (which looks like a bowl of multicolored spaghetti) to locate several bus routes that served the neighborhood. Armed with the information that the two bus stops (one for each direction, on opposite sides of the street) were at South Quincy Street and 28th Street, I still had to search up and down the streets on either side of the intersection to find the bus stops.
Even if you know which bus line you want, you can't necessarily just go to a bus stop and wait. Some bus routes don't operate every day; some run every half hour or during rush hours only. In practice, this means you have to do some research before you ride.
Once you have sought out the information and are ready to ride the bus, you face one more obstacle: the information might be wrong.
This happened on the day after Christmas, when Metro, after saying it would run normal weekday service, suddenly decided to operate a different schedule. That morning, I and another passenger showed up at a bus stop in time for a scheduled bus to Shirlington. Shortly after the bus was due, one pulled up, and the driver parked and turned off the lights. He wouldn't be leaving for almost half an hour. The bus we were waiting for had been canceled.
Not just that bus had been canceled, either. That morning, our driver informed us, Metro had decided to reduce rush-hour service and had sent some drivers home, frustrating both employees and passengers.
A reduction in service was in order. A last-minute decision was not. The federal government had announced weeks earlier that its offices would be closed on Dec. 26. It was bound to be a light travel day for commuting. Virginia Railway Express and Alexandria Transit had announced that they would operate reduced service on that day.
Instead of deciding ahead of time that a reduced schedule was appropriate, Metro waited until some drivers had returned from visiting families far away and until passengers were waiting at bus stops before cutting service. Our driver said that the bus service has been run that way for years.
In some ways, including communications on the rail lines, Metro is one of the best transit systems in America. One of its innovations is the electric signs on the train platforms informing riders when the next train will arrive and where it is bound.
Out on the streets, bus riders—a huge and important part of Metro's ridership—generally have to find their own information, and then it might be wrong.
It's high time that Metro upgraded its bus service and communications and simplified its routes with more trunk lines, like the new Columbia Pike service. For example, I often ride the number 10 bus. There are 10A, 10B and 10E buses with partly overlapping routes and different destinations, and none of them goes straight from anywhere to anywhere. The 10B turns at least a dozen times in the three or four miles between downtown Alexandria and Shirlington. The trip is generally northwestward, but sometimes the bus is traveling south or east, like a strand of spaghetti.
The service pattern is partly ordered by the cities and counties served by Metro, but the jurisdictions should approve of a plan to make a lot of the bus routes more direct, with buses running more often and all day. Then Metro should publish schedules and stick to them.
---
Trolleys Combine Heritage, Tourism, and Transportation
By Steve Dunham
This column appeared in the Fredericksburg, VA, Free Lance–Star on May 18, 2003, and is reproduced with permission.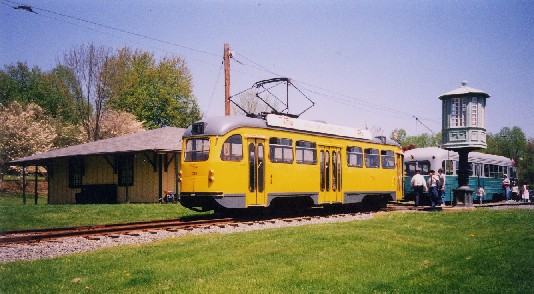 The bouncing banana from The Hague and a A 1935 Washington, D.C., streamlined car.
Photo copyright Steve Dunham 2003.
Imagine riding a real trolley through Fredericksburg. It might begin its trip at the battlefield visitor center, stop at the railroad station, travel through town (maybe on Sophia Street, which has less traffic), and even go as far as Central Park, Celebrate Virginia or the National Slavery Museum. This would be a vintage or reproduction electric streetcar operating on rails—not a bus with trolley trappings, nor a full-fledged light railway like Baltimore's. It would be North America's 21st heritage trolley line.
Large cities such as Memphis, Tampa, and Detroit operate heritage trolleys, which dramatize the cities' history, draw tourists, and provide everyday transportation. But heritage trolleys aren't just for big cities. Small cities, too—including Lowell, Mass.; Kenosha, Wisc.; and Fort Collins, Colo.—have heritage trolley lines. Most of these 20 cities have revived former trolley lines or built new ones; the St. Charles line in New Orleans became a heritage trolley operation simply because it lasted so long.
Fredericksburg's heritage trolley line could operate in the street or on its own right of way or—like many heritage trolleys and light railways—do some of both. If it ran every 15 minutes, it wouldn't be adding to traffic. In fact, it might help mitigate traffic if some of its 40 seats were filled by people who otherwise would have driven into town. People also would be more likely to use a remote parking area for special events such as First Night if the trip into town were via a real trolley.
To get an idea of what a Fredericksburg heritage trolley line would be like, you can visit the National Capital Trolley Museum in Colesville, Md., outside Washington, D.C. On Saturday and Sunday afternoons (plus some Thursday and Friday operations in warm weather), the museum operates vintage trolleys from North American and European cities on a short trip through a park. Some cars in the collection are more than a hundred years old, while others, like the Dutch car built in 1971 (the museum's newest), are remarkably modern. The Washington, D.C., streamlined car built in 1935 offers a smooth ride, whereas the car from Johnstown, Pa.—only 9 years older—looks and feels more like an antique. Clearly they are from two different generations of trolleys.
Sampling the trolleys gives you a taste of various decades of urban transportation, and maybe an idea of which kind of car would work best in Fredericksburg.
Admission to the grounds is free, and the grounds have a picnic grove, trolleys on display, and a museum describing the history of trolleys in general and Washington, D.C., lines in particular. A trolley ride costs $2 for kids up to 17 and senior citizens, $3 for everyone else. If you ride just one trolley, though, you might get the idea that they are all alike. For a few dollars extra, you can get a five-ride ticket, and you don't have to use all five rides in one day.
To get to the museum, driving to Maryland is one choice, and I did that once. On a Sunday afternoon in April, I made a better choice: I and two of my kids went by train. You can take Amtrak to Union Station in Washington, and the Metro from there to the end of the Red Line at Glenmont. The Montgomery County Ride On bus number 26 goes to the museum every half hour; it's about a 10-minute ride, and the bus takes you right onto the museum grounds.
The National Capital Trolley Museum is at 1313 Bonifant Road, Colesville, Md., between Layhill Road and New Hampshire Avenue. The phone number is (301) 384-6088. Special events and children's programs are listed on the website at www.dctrolley.org.
To learn more about the 20 existing heritage trolley operations in the United States and Canada, visit the heritage trolley website at www.heritagetrolley.org.
---
Metro Increases Capacity and Security
By Steve Dunham
This column appeared in the Fredericksburg, VA, Free Lance–Star on January 12, 2003, and is reprinted with permission.
The Washington Metro has some impressive improvements lined up for this year. Although Metro just might be the best transit system in America, it is still moving ahead—straining to keep up with the crowds of riders but also leading the industry with security innovations and acting to reduce pollution.
For some Fredericksburg-area commuters, Metro is the final link in the journey to their offices. For other travelers, it is the service takes them to the front door of Reagan National Airport. For families, it is the train that takes them to the National Zoo or the Air and Space Museum on weekends. Virginia Railway Express riders have five possible transfer points to Metro; Amtrak riders have two. Sometimes, however, using Metro means driving to a Metro station, particularly if you want to spend the evening in Washington.
For anyone who has driven to the Franconia-Springfield Metro station, about 40 miles north of Fredericksburg, the Washington Metropolitan Area Transit Authority has some good news: the parking facility, which fills up early on weekdays, is getting 1,000 more parking spaces, and the work should be finished this summer. Other stations throughout the system are getting increased parking capacity as well.
Also by this summer, Metro should have all 192 of its new cars in service. About half are in operation now. Added to the eight hundred–plus cars in the current fleet, these new vehicles will enable Metro to operate six cars on all rush-hour trains, some of which now have only four. Although rush-hour crowding has been most noticeable on the Green Line to Branch Avenue in Suitland, which opened in January 2001, six-car trains will be welcome to rush-hour riders on any line. The new cars will also allow Metro to remove some older cars from service for overhaul work. Metro has ordered an additional 62 cars, and is working to secure funding for 120 more after that so that the system can operate eight-car trains.
Besides expanding its fleet, Metro continues to expand its rail system. Work is under way on the Red Line station at New York Avenue and on the Blue Line extension to Largo, both of which are expected to open next year. Planning has begun for the Dulles Airport line and for the Purple Line, which would parallel the Capital Beltway in Maryland—and wouldn't a complete Purple Line all the way around Washington be a welcome alternative to the Beltway?
Less visible are Metro's security enhancements—in fact, some of the details are secret. In plain sight will be the additional officers on the transit police force. Less noticeable will be the security cameras being installed on 100 buses. And in a program that long predates September 11, 2001, Metro will continue adding chemical detectors to unspecified stations. Metro has also added more canine bomb-detection teams in recent months. Although America has not suffered the kind of terrorism on transit systems that has taken place in Britain, Japan, and other countries, it is reassuring to know that Metro is making itself a difficult target.
As the Washington region continues to struggle with air quality, the transit authority has made major efforts to reduce pollution. Metro begins the new year with a fleet of 164 buses powered by compressed natural gas, all of them delivered in the past 12 months. This year, Metro will begin installing after-treatment filters on 600 of its diesel buses to nearly eliminate emissions of particulate matter and will repower 100 diesel buses with new engines that meet the latest Environmental Protection Agency regulations. (Metro's trains are electric and produce no emissions.)
For some of us, "subway" has always meant Metro. For some of us who moved to Virginia from other states, Metro is astonishingly better than some other subways we've ridden. With the kind of improvements the transit authority keeps making, you can see why the system keeps setting ridership records despite a sour economy.
---
Metro Changed the Face of Washington
By Steve Dunham
This column originally appeared in the Fredericksburg, VA, Free Lance–Star on October 13, 2002, and is reproduced by permission.
The next time you're in Washington, D.C., whether you're going to work, visiting the Smithsonian, or taking a trip to the zoo, imagine the city without the Metro system. Imagine, instead, 28 more miles of highway, passing through Georgetown, bordering the Potomac River, coming close to the Jefferson Memorial, and adjoining the National Arboretum. In the 1960s, Washington had a choice between more highways or a rapid-transit system. The result is part of the modern face of the city and its suburbs; the alternative is almost unimaginable.
Nothing has changed the face of Washington the way Metro has, or repaid the dividends invested in it, according to Rudolph A. Pyatt, Jr., a retired Washington Post business columnist and a former Metro skeptic. Pyatt addressed the opening session of a conference called "Rail-volution: Building Livable Communities With Transit," last weekend in Washington. After decades of writing about the Washington business environment and noting the influence of transportation policy, Pyatt now opposes further highway construction in the city, saying that more roads lead inevitably to more gridlock.
This former Metro skeptic also refutes one of the skeptics' arguments that is still heard today: that transit-oriented development with its higher density will attract so much road traffic as to overwhelm any gains made by transit. The fact is, he said, that development focused on transit access has enabled neighborhoods to maintain a scale suited for people. For proof, he said, walk around Alexandria, Ballston, or Bethesda.
Without rapid transit, those neighborhoods, and many others in the Washington metropolitan area, would have a very different face. Washington had a trolley system—real electric trolleys on rails, not rubber-tired, gasoline-burning imitations—but the last line was abandoned in 1962, as Washington was becoming a city that depended principally on cars to take people everywhere.
Only the vigorous protests of Washington residents stopped the 28 additional miles of highway from being built. Instead of highways, after fierce political fighting and close calls, Washington got Metro, now 103 miles long and still growing. The latest addition, and the most significant for Virginia, is on the verge of approval to go forward: an extension from Falls Church to Dulles International Airport.
Such transportation policies and choices have shaped the world we live in and work in. They have changed the face of the cities to which many of us commute, and they are changing the face of Fredericksburg and its surrounding area.
---
VRE's Metro Connection
By Steve Dunham
This column appeared in the Fredericksburg, VA, Free Lance–Star January 9, 2000, and is reproduced here by permission.
The Washington Metro is the connection of choice for people traveling to many places beyond the range of Virginia Railway Express. VRE directly serves Alexandria (near the bulk of the downtown offices), Crystal City (walking distance to everything in that corner of Arlington), L'Enfant Plaza (Federal offices and the Smithsonian museums) and Union Station (Capitol Hill and the Senate offices). The Metrorail system connects with VRE at all of those stations plus Franconia-Springfield and reaches many other points with service that ranges from superb to inconvenient.
Nearly two years of temping (1996–1998) gave me experience riding Metro not just for occasional trips but, at some assignments, every day to and from work. I commuted on every line at one time or another and discovered which connections are outstanding and which are for the desperate (I was never desperate enough to drive).
Outstanding: National Airport or the Pentagon via Metro's Blue or Yellow Lines. Both lines stop at King St. in Alexandria, next to the VRE station. Because the Blue and Yellow Lines share track between King St. and the Pentagon, you can ride either line, and between them there's a train every few minutes. At both National Airport and the Pentagon, Metro stops at the front door.
Also outstanding: Catholic University or Silver Spring, Md., via the Red Line. The transfer point is Union Station; VRE and Metro are at opposite ends of the building, but it's a short walk, the Red Line has frequent service, and it's about a ten-minute ride to downtown Silver Spring, or about five minutes to Catholic U.
Good: Rosslyn via the Blue Line. Transfer at Franconia-Springfield, King St., or Crystal City. Changing at Franconia-Springfield going up guarantees you a seat (it's the beginning of the Blue Line). Coming back, VRE will have more seats at Crystal City; King St. is good in poor weather because it has a waiting room. From Crystal City to Rosslyn takes about ten minutes on the Blue Line.
Pretty good: Dupont Circle, Bethesda, Md., or Rockville, Md., via the Red Line. Change at Union Station. To Rockville it's a one-seat Metro ride, but a long one—about 35 minutes. Dupont Circle is only about ten minutes from Union Station on Metrorail, but Metro takes you west across town after VRE has just taken you east.
Also pretty good: College Park via the Green Line. Change at L'Enfant Plaza. The one-seat ride takes around half an hour, but the Metro station at College Park is several blocks east of the University of Maryland campus.
Inconvenient: Ballston or Falls Church via the Blue and Orange Lines. In fact, anything involving a second transfer is inconvenient if you have to do it every day. I worked in Ballston for several months. I would get off VRE at Crystal City, walk to the Metro station (about two blocks, mostly indoors), wait for the Blue Line train, ride the Blue Line from Crystal City to Rosslyn, wait for the Orange Line train, then ride the Orange Line train to Ballston. In the evening it was the reverse. The two Metro rides each way took only about ten minutes each, but the walking and waiting made it into a 40-minute trip for five or six circuitous miles.
The Transit Link Card is a monthly Metrorail and VRE pass printed on a Metro farecard. It offers a substantial savings over the cost of separate VRE and Metro passes. For more information, call 800-RIDE-VRE or visit the VRE website; it includes a link to the Metro website.