---
---
Steve Dunham's Trains of Thought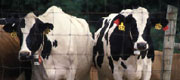 APHIS photo
F
CUS

on Animal Identification
By Steve Dunham. From The Weekly Homeland Security Newsletter, May 8, 2009. Copyright 2009 Analytic Services. Reproduced with permission.
ID tags and microchips for animals are growing common for two reasons: pet owners can be reunited with their lost animals, and governments can trace diseased livestock.
However, farm animals too may be separated from their owners by a disaster, and the American Veterinary Medical Association recommends "having identification on" animals, "including rabies and license tags, if applicable." The ID can help reunite animals and owners after a disaster or evacuation.
Livestock identification systems are mostly voluntary but increasingly mandated by state and national governments, whereas inclusion of pets in disaster plans is a government response to public reluctance to leave animals behind.
Hurricane Gustav in 2008 was "the first time in history that pets" were "a priority in an evacuation," Ana Zorrilla, chief executive officer of the Louisiana Society for the Prevention of Cruelty to Animals, told National Geographic News. "Thousands of pets accompanied the estimated two million people who fled inland from the U.S. Gulf Coast," wrote Maryann Mott in National Geographic News. "… pets from New Orleans" were "sent from a huge shelter at the Shreveport, Louisiana, fairgrounds back" to the Louisiana SPCA for owners to retrieve them. In the "evacuation during hurricane Gustav, pet owners that had pet id cards were processed faster and were able to board the buses faster," according to the National Pet Identification Registry, a volunteer group that for a fee of $15 enrolls pets in a database to help reunite owners with lost or stolen pets. The registry provides laminated pet ID cards for pet owners.
Livestock registry is also growing, thanks to government programs around the world.
Taiwan has ordered 5,000 low-frequency radio-frequency (RFID) Pet Recovery Microchips, part of a "commitment of 100,000 chips per year as well as 1,000 [card] readers per year," according to the contractor, Advanced ID Corporation. "… Taiwan has taken the position that pet microchipping is critical to the overall safety of domestic pets."
Livestock tracking is motivated by different concerns. Over the past few decades, governments have introduced animal-tracing systems in order to halt the spread of disease by finding animals that have had contact with a diseased one.
"In the 1960s Australia introduced a cattle-tracing system as a means to assist the bovine Brucellosis and Tuberculosis Eradication Campaign," according to Meat & Livestock Australia. "… The system was based on a unique identification number"— a Property Identification Code—"that was aligned to each farm … All Australian states introduced legislation that underpinned the use of the" Property Identification Code. Australia's current National Livestock Identification System "uses machine-readable" RFID "devices to identify cattle."
Canada has mandatory individual livestock identification using RFID—"one national, seamless tagging system … for dairy animals for the whole of Canada," according to National Livestock Identification for Dairy. "… all newborn animals—male and female—are tagged with the same system."
New Zealand has National Animal Identification and Tracing, which "links people, property and animals," according to the government website. It "will keep track of where farmed animals are and where they have been." It is being managed by a partnership between industry and government. It "is planned to be fully operational in 2010 and from mid 2011 it is expected to be mandatory for cattle and deer, with other species to follow if required.… Cattle and deer are the first focus because they are already included in mandatory animal identification schemes under the National Bovine Tuberculosis Pest Management Strategy."
"Uruguay has had an individual traceability system for exports to" the European Union "since 2001," according to Meat & Livestock Australia. Uruguay decided to test an improved system involving "double tagging of cattle (a visual tag and an electronic tag), and recording of movements on a central database." Brazil too tracks individual animals.
Taiwan has a pig-tagging and traceability project using ultra–high frequency ear tags, according to Advanced ID. Taiwan may purchase up to 8 million tags per year.
Japan identifies individual animals throughout the supply chain, and it has stringent beef import requirements. "Following the discovery of a [U.S.] cow testing positive for" bovine spongiform encephalitis ("mad cow disease") in 2003, "over 40 export markets for U.S. beef closed," according to John D. Lawrence, Professor and Director of the Iowa Beef Center at Iowa State University. "The largest of these, Japan, represented 34% of U.S. beef exports and approximately 3% of total U.S. beef production." (The ban was lifted in 2006.) "… The specific product requirements for the Export Verification Programs differ by country, but most have followed the World Organization for Animal Health … Japan has chosen a different standard."
The European Union has a pet passport and is developing the Animal Diseases Information System compatible with the World Organization for Animal Health system. However, "British and Irish lawmakers in the European Parliament" along with French sheep farmers have opposed "a rule that would make electronic tags for millions of sheep and goats across the [European Union] compulsory …" reported Reuters. "'The idea that 33 million sheep in Britain will be tagged by January 2010, it's frankly not going to happen.…' said UK Conservative [Member of the European Parliament] Neil Parish, also chairman of the Parliament's agriculture committee."
In the United States, the National Animal Identification System (NAIS) has created significant opposition too. The system "is a modern, streamlined information system that helps producers and animal health officials respond quickly and effectively to animal disease events in the United States," according to the U.S. Department of Agriculture's Animal and Plant Health Inspection Service. The system "is designed to" increase U.S. "disease response capabilities," "limit the spread of animal diseases," "minimize animal losses and economic impact," "protect producers' livelihoods," and "maintain market access."
And it has "has sparked the most severe political backlash rural America has seen in decades," wrote David Gumpert and William Pentland in The Nation. "The controversy stems primarily from the backhanded way the government has imposed a deeply unpopular policy. By introducing NAIS as regulatory changes, the USDA has short-circuited the democratic processes designed to protect the public from government overreaching. Congress has never debated NAIS, and few elected officials have been held accountable for its consequences. The USDA has backed off the original plan to make NAIS mandatory and … now describes the program as 'voluntary.'"
NAIS has three phases: free, voluntary premises registration; animal identification tagging (by individual animal or, if animals move through the supply chain as a group, by lot); and tracing by means of a database. Only animals that never leave the farm are exempt.
"When a disease outbreak occurs, animal health officials need to know … Which animals are involved … Where the infected animals are … What other animals might have been exposed to the disease," says the Animal and Plant Health Inspection Service.
But a Government Accountability Office "report said NAIS may not be able to achieve its stated purpose, largely because the USDA has raced to implement a system larger and more ambitious than any other in the world," wrote Gumpert and Pentland.
"This system works in favor of multinational corporations that want to produce animal products in least-cost locations and sell them in wealthier countries," asserts the group NoNAIS. For example, large agricultural businesses can avoid the expense of tagging individual animals if a whole herd or flock is raised and slaughtered as a group. Small farms that sell individual animals will have to tag each one. The Illinois Department of Agriculture says that the system is the result of "a concerted industry led effort."
"A consortium of industry leaders—Cargill Meat Solutions, Monsanto and Schering-Plough, among others—pushed for NAIS for more than a decade …" wrote Gumpert and Pentland. "The consortium, the National Institute for Animal Agriculture (NIAA), designed NAIS for the USDA."
"Being able to guarantee in the global marketplace that American farmers can quickly track disease 'is a desirable factor with some of our trading partners, certainly in the Japanese export market,'" wrote Gumpert and Pentland, quoting Bruce Knight, Agriculture Under Secretary for Marketing and Regulatory Programs.
"A great confluence of interests is behind this thing," they quoted attorney Karin Bergener as saying, and "nobody outside of those groups is involved in the decision-making."
Although serving national and commercial interests, the National Animal Identification System is "implemented primarily at the State and Tribal level[s]," says the Animal and Plant Health Inspection Service, and at the state level, the system is not necessarily voluntary. Although Kentucky, Missouri, Nebraska, and Utah have passed laws to keep participation voluntary, and "the registered brand is the basis for animal identification in New Mexico," other states have mandated participation: Indiana requires "identification for all sites associated with the purchase, sale, or exhibition of livestock"; in Iowa, "Premises Identification Numbers (PINs) are necessary for any location involved in livestock commerce or the movement of animals or poultry"; in Michigan, "cattle, of all ages, must be identified with an official radio frequency identification (RFID) ear tag prior to movement from a Michigan premises," and "producers must have premises registered with the Michigan Department of Agriculture to order tags"; Wisconsin has required premises registration since 2004.
Other states indicate that the system may not remain voluntary: Illinois acknowledges "the current voluntary status" of NAIS but indicates that "all livestock premises need to be registered." Colorado and Hawaii say that participation is voluntary "at this time." The Kansas Animal Health Department says, "The program is voluntary but may eventually become mandatory."
Hazards created by changes in animal husbandry may also be driving these mandates for animal registration and tracing. Mother Earth News pointed to what "the Council for Agricultural Science and Technology said in a 2005 report ['Global Risks of Infectious Animal Diseases'] tracing the transition of livestock production from family farms to industrial confinement: 'A major impact of modern intensive production systems is that they allow the rapid selection and amplification of pathogens.'" "Because of the Livestock Revolution," said the council's report, "global risks of disease are increasing."
Sources
"About NAIS," U.S. Department of Agriculture, Animal and Plant Health Inspection Service, March 31, 2009
"Advanced ID Continues Its Asian Expansion Into Taiwan," Advanced ID Corporation press release, Aug. 19, 2008
American Veterinary Medical Association, "Animal Health," 2009
Animal and Plant Health Inspection Service state contact list, May 7, 2009
Peg Boyles, "Animal Disaster Planning," Journal of Homeland Security, April 2003
Dan Buskirk, "Michigan Animal Identification System: Update," March 21, 2007 (10.4MB PowerPoint file)
Colorado Department of Agriculture, "Colorado Animal ID," frequently asked questions
"EU Lawmakers Open Battle Against Sheep, Goat Tags," Reuters, Sep. 2, 2008
European Union Pet Passport Q&A page
David E. Gumpert and William Pentland, "USDA Bets the Farm on Animal ID Program," The Nation, Dec. 14, 2007
"Frequently Asked Questions About Premise[s] Identification for 4-Hers," Indiana State Board of Animal Health (31KB PDF)
Hawaii Department of Agriculture, Hawaii Animal Premises Identification System
"History of Livestock Identification and Traceability," Meat & Livestock Australia, July 3, 2006
"Iowa Premise[s] Identification Program," Iowa Animal Industry Bureau, Feb. 18, 2009
Kansas Animal Health Department, "What We Do," 2009
John D. Lawrence, "Age Verification for Japan: What Is Involved and Is It Right for Me?" Western Extension Marketing Committee, Animal Identification, summer 2006
Maryann Mott, "Gustav Pet Evacuations Show Katrina Lessons Learned," National Geographic News, Sep. 2, 2008
"NAIS Facts and Myths," Illinois Department of Agriculture, March 2006 (34KB PDF)
"National Animal Identification System: USDA Needs to Resolve Several Key Implementation Issues to Achieve Rapid and Effective Disease Traceback," Government Accountability Office, report to the U.S. Senate Committee on Agriculture, Nutrition, and Forestry, July 2007 (3.7MB PDF)
National Livestock Identification for Dairy (Canada)
"National Livestock Identification System in Australia," Meat & Livestock Australia, Nov. 23, 2007
National Animal Identification and Tracing, New Zealand, 2009
National Pet Identification Registry, 2007
New Mexico Livestock Board Position on Animal ID
"New York Animal Health Information System: Facts and Myths," New York State Department of Agriculture and Markets (162KB PDF)
"Threat Prevention, Surveillance and Emergency Preparedness," European Commission, Animal Health and Welfare, Oct. 9, 2008
"The Truth About the National Animal Identification System," Mother Earth News, Feb. 1, 2008
Walter Jeffries, "Zanoni at Farmers' Research Circle," NoNAIS, March 4, 2009