---
---
Steve Dunham's Trains of Thought
"Commuter Crossroads"—commuting by bus
Commuter Crossroads main page
Commuting by rapid transit and trolley
Commuting by train
Commuting by car
Commuting by bicycle and walking
More Commuter Crossroads topics


---
Express Bus Connects VRE to Tysons Corner
By Steve Dunham
This column appeared in slightly different form in the Fredericksburg Free Lance–Star on Dec. 6, 2009, and is reproduced with permission.
A new express bus began operating between the Woodbridge Virginia Railway Express station and Tysons Corner in November 2009, operated by OmniRide. I rode it on the second day of service to give it a try, even though I don't work in Tysons.
Tysons, a major employment and shopping area, is a whirlpool of traffic at the intersection of Leesburg Pike and Chain Bridge Road in Fairfax County, with the Capital Beltway and Dulles Toll Road along two sides. Despite sidewalks and some crosswalks with pedestrian signals, it's hostile to anyone on foot or bicycle and barely accommodating to bus riders. Discouraged from any other means of transportation, the bulk of Tysons commuters and shoppers travel by car, making for a trip that can be nearly as difficult as any other choice.
Although it's only about 55 miles from Fredericksburg, Tysons is a difficult rush-hour drive and a very long trip by public transportation. Two Metrobus routes already connected VRE with Tysons Corner: the 28 from King Street in Alexandria and the 23A from Crystal City. Each runs about every half hour, and each is scheduled for around one hour to cover the distance of about 15 miles. VRE riders can use these buses for free by showing their VRE tickets. Counting transfer times, this takes two hours or more one way from Fredericksburg.
The new OmniRide service is a little faster. For one thing, Woodbridge is only about 40 minutes from Fredericksburg on VRE, 30 minutes on Amtrak. Four rush-hour bus trips leave the station 4 to 14 minutes after VRE trains arrive (a 4-minute connection is a bit tight). The bus makes a stop at the commuter lot at routes 123 and 95 and then runs express to Tysons. From the commuter lot it's scheduled to take 50 minutes to reach the first stop in Tysons, only about 25 miles away. I was surprised that an express bus would average only about 30 miles an hour for the nonstop portion of its trip. I learned why once we left Woodbridge. We scooted up the I-95 HOV lanes and reached the Beltway in about 20 minutes. Once on the Beltway, which has no HOV lanes, we were in stop-and-go traffic, with no time advantage over the rest of the traffic. After we passed a dump truck stopped in the middle lane, I thought things might get better, but it was still slow going all the way to Tysons. However, we arrived at the first stop 23 minutes early.
The bus spends 25 more minutes winding its way around Tysons Corner, making about 15 stops, pausing at just about all the major office buildings. Overall, the trip from Fredericksburg is a good half hour faster than via VRE and local Metrobuses.
The OmniRide bus is more comfortable than a Metrobus too; it has upholstered seats and wi-fi. It has no toilet, though: something to consider on a trip that approaches two hours total. If you can't wait another hour, you'd better use the one on the train before getting off.
The fare is $6 one way or $4.80 with a Smartrip card. VRE commuters with a monthly ticket ride free to Tysons and pay the one-way fare returning. Exact fare is required.
For now, the OmniRide express is an incremental improvement. However, the high-occupancy toll ("HOT") lanes under construction on the Beltway will provide an express route for buses along this very segment of the highway where the Tysons express now gets stuck in traffic. They should reduce the trip time considerably and make the service more reliable.
What about the Metrorail line under construction to Tysons? When it opens in a few years, it probably won't offer a faster trip from Fredericksburg. VRE passengers will be able to transfer to this Metro line at L'Enfant Plaza in Washington, DC, but that's a 40-minute ride on VRE beyond Woodbridge, and from L'Enfant Plaza it will take more than half an hour on the Metro to reach Tysons Corner.
Metrorail service to Tysons will be an improvement, but for daily commuters to Tysons Corner, once the HOT lanes open, VRE plus OmniRide looks like the way to go.
Update December 2012: the Beltway express lanes opened this month, and Omniride plans to adjust the express bus schedules in the near future.
---
No More Guessing With Next Bus
By Steve Dunham
This column appeared in the Fredericksburg Free Lance–Star on Sep. 13, 2009, and is reproduced with permission.
"Metro is taking the guesswork out of waiting for a bus," says the Washington Metropolitan Area Transit Authority.
Although some Metrobuses I ride tend to be punctual, others, particularly those that go all the way from Tyson's Corner to Alexandria or Arlington, often get delayed in traffic. I experienced my longest Metrobus delay on the first day of spring. I allowed plenty of extra time to travel by Metrobus and Metrorail from Tyson's Corner to Springfield, where I planned to catch the last Greyhound to Fredericksburg.
The bus from Tyson's to Alexandria wasn't due for about 20 minutes, so I sat down on a bench outside to eat my lunch. As I sat there, a bus to Alexandria passed by when it wasn't supposed to. Afterwards, at the bus stop, I waited and waited. Finally, another bus to Alexandria came along, half an hour late. By the time it got to Alexandria, the bus was an hour late, and all my spare time had evaporated. After a quick Metrorail ride to Springfield, I missed the last Greyhound by a few minutes.
If I'd had a way to check whether the buses were on time, I could have found out that a bus, running late, was coming along a few minutes after I arrived at the Tyson's Corner Shopping Center. Metro's Next Bus system promises to provide that information. Metro introduced the system a few years ago for a few bus routes but withdrew it when it proved accurate only about 80% of the time. Next Bus was reborn this summer, so I gave it a try. I was afraid that it would merely tell me when the next bus was scheduled—something I usually know already. But using the Global Positioning System to track buses' locations, Next Bus tells you when the next bus is actually expected to arrive. On a long route, such as Tyson's Corner to Crystal City, where during rush-hour there may be three buses spread out along the route, Next Bus gives the estimated arrival times for all of them. Metro's goal is for the system to be correct within two minutes, and so far, says Metro, Next Bus is accurate 92% of the time.
I've started using it for my evening trip from Shirlington to Crystal City (both in Arlington, about four miles apart). I've found that Next Bus has been accurate within two to five minutes.
It's biggest drawback is that the instructions on the bus stop signs are incomplete. A red and blue circular sign gives a seven-digit number that identifies the bus stop, and the sign tells you to call (202) 637-7000. I called the number, and a computer voice told me to say what I wanted. When I said something like "Twenty-three-A bus, Shirlington to Crystal City," the voice would say it didn't understand. Finally it gave me a list of choices, one of which was Next Bus. The phone number, I realized, was the main Metro number, not one specifically for Next Bus. Once I was connected to the Next Bus line, I had a prediction for the next bus to "Chris-Tile City," as the computer pronounced it.
The web interface is easier to figure out and has complete instructions. On the Metro home page you can click on the Next Bus icon. On the Next Bus web page, you can enter the seven-digit number that identifies your bus stop, or you can just choose the bus stop, bus route, direction, and destination from pull-down menus. Up pops your information, and you can save that page so that in the future you can return directly to the page with the latest information for that bus stop and route. I've added the 23A bus, Shirlington to Crystal City, to my Internet favorites at work, and now when I'm getting ready to leave, I open that web page and instantly get the estimated times of arrival for all buses that are on their way.
Besides phone and web access, Next Bus information is available on electronic displays at the Pentagon and a few other Metro stations.
Next Bus is a major, welcome improvement for Metro riders. Many times I've waited at a bus stop, asking no one in particular, "Dude, where's my bus?" Now there's an answer.
---
Fred Is Growing Up
By Steve Dunham
This column appeared in the Fredericksburg, VA, Free Lance–Star on Aug. 19, 2007, and is reproduced with permission.

The new Fred Central on the U.S. 1 bypass in Fredericksburg.
Fred is "like a person" to Kathleen Beck, transit manager of Fredericksburg Regional Transit. "I like Fred," she said. A lot of people seem to agree, because Fred is carrying ever more riders, and the number of routes keeps growing. Come October, a lot more people will make Fred's acquaintance as the transit agency inaugurates shuttle service from commuter lots to the railroad station downtown.
Beck has been the manager for five years, during which, she said, no two days have ever been the same. She's been with Fred since 1997, when she began as a part-time administrative assistant. Her professional history in public transportation reaches back to her years with the New York City Transit Authority, where she worked in the technical training office.
Now she oversees a local bus system that has grown to 18 routes in the city of Fredericksburg and Spotsylvania, Stafford, King George and Caroline counties. The 55 part-time employees (nearly all drivers) provided 350,000 passenger trips last year. The employees seem to like Fred too—turnover is low, said Beck, and a lot of the drivers have been with the system for five years or more.
Fred itself turned 10 last year, and about the only thing that hasn't gotten bigger is the fare: it's still 25 cents. That's $55,000 a year in quarters, noted Fred's Arnie Levine. It's a small portion of Fred's budget of more than $4 million annually (funded by the city, county and business partners), but it's about to grow for two reasons: to boost revenue, Beck has eliminated free transfers between bus lines, and the commuter shuttles—expected to carry as many as 300 round-trip riders a day—will charge a higher fare. Those passengers would boost the total number of riders by half: right now Fred is carrying about a thousand one-way passengers each day.
They would also increase Fred's emphasis on taking people to work. About 40% of the existing passengers use the bus to get to their jobs.
Virginia Railway Express passengers' willingness to take a shuttle bus to the station represents a turnabout from earlier years, when a VRE rider survey indicated that few who drive downtown would choose any other way of getting to and from the train. On the first day of spring this year, however, Fred staff surveyed VRE passengers at the Fredericksburg station, and more than 80% of those who responded said they would ride a shuttle bus—mainly from route 3 west of the city, from Lafayette Boulevard or from Tidewater Trail. When instituting the shuttles, Fred will boost service on bus routes 3 and 4 (the Lafayette Boulevard and Plank Road lines) to hourly all day long.
Eventually, Beck would like to see headways reduced to 15 minutes on all lines (which would require a budget four times bigger). Then passengers could take the bus without first studying a schedule. They could just walk to the nearest bus stop and wait a few minutes for a bus to come along. Fred already does a good job of providing transfers between lines: buses wait for one another at intersecting points such as the mall or Fred Central.
Fred Central is scheduled to return to its original location on the U.S. 1 bypass in October. The original bus station there (a former gas station) had so little room that the transit agency could not hire administrative staff. The new terminal, to be shared with Greyhound (like the original Fred Central and the current temporary terminal on Princess Anne Street), will fit office space, bus lanes and passenger amenities into the same triangular lot at Stafford Avenue.
A new website, bus stop shelters (funded by grants) and posted schedules are part of Fred's growth into a system that will be more attractive to riders.
As Fred grows, where does Beck see Fred going at age 11 and beyond? Besides more frequent service, she expects more routes, designated by the governments that fund Fred but also guided by riders' requests. She would like to see service hubs around the Fredericksburg area with supervisors and backup buses. She also wants Fred to have its own maintenance facility.
But there's one thing she doesn't want to change: the small-town feel of the bus service. She doesn't want ads on the outsides of the buses, for example. But more important will be keeping the friendly atmosphere at Fred: "It's a good place," she said. Riders often know the drivers by name. As Fred starts carrying hundreds more people who are on their way to work, it will be a new challenge for Beck. But I think she's up to it, and I think Fred is going places.
---
Buses Connect VRE With Richmond
By Steve Dunham
This column appeared in the Fredericksburg, VA, Free Lance–Star on May 27, 2007, and is reproduced with permission.
My first trip on the Richmond commuter bus was uneventful. This is good. Eventful commutes are usually bad.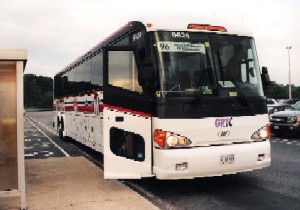 A Greater Richmond Transit bus stops to pick up passengers at the Courthouse Road park-and-ride lot in Spotsylvania after dropping VRE passengers at the railroad station in Fredericksburg.
On May 21, Greater Richmond Transit buses began serving the Virginia Railway Express station in Fredericksburg, bringing commuters from the Richmond area and Carmel Church, as well as carrying riders from Fredericksburg, Spotsylvania and Carmel Church to Richmond.
On the second day of service, my wife and I boarded the bus at the commuter lot on Courthouse Road in Spotsylvania. We were pleased to find not a Richmond city bus but a long-distance bus with comfortable reclining seats, reading lights, a clean toilet and wireless Internet service. The regular drivers, Cindy and George, were friendly and helpful.
After a stop at the Carmel Church commuter lot on Telegraph Road, we headed into Richmond in moderately heavy traffic but arrived downtown on time. The bus makes scheduled stops at Fourth and Jackson streets and at Ninth and Broad streets, but it will stop at marked GRTC bus stops along the route if anyone wants to get on or off. It heads east on Broad Street to Fourteenth Street and then loops back to Ninth.
We got off at Ninth and Broad, just around the corner from the statehouse and close to Virginia Commonwealth University, the Medical College of Virginia and numerous state offices and businesses—the heart of downtown.
This was a holiday from work, so we didn't go to any of those places; instead, after breakfast, we went to the canal walk, the Tredegar iron works, Belle Isle and the Museum of the Confederacy. This was a lot of walking (by choice), but the canal walk and the Museum of the Confederacy are a 10-minute walk or less from the bus line.
The end of a day of sightseeing or a day at the office is a good time to be getting on the commuter bus to Fredericksburg. Our bus was slowed by street paving, an accident on I-95 and congestion around Four-Mile Fork. With those three traffic headaches, I would have had an eventful and unpleasant trip if I'd been driving, but instead I slept through much of it. Despite the difficulties, we were back at the commuter lot in Spotsylvania only about 10 minutes behind schedule, and then the bus headed into Fredericksburg to meet the VRE train.
If you are riding the bus to VRE from Henrico or Caroline county, it looks like an even better deal. Not only will it take you straight to the Fredericksburg VRE station, it will wait for you in the evening if your train is late. (In the morning, the buses cannot wait at the VRE station, so they will depart as soon as they unload and load passengers.) The morning buses arrive in time for the 5:45 and 6:35 VRE trains to Washington, and in the evening they meet the trains that arrive in Fredericksburg at 5:37 and 6:46. Once the buses are each carrying 30 to 35 round-trip passengers, Greater Richmond Transit will consider adding a third bus.
At $6 one way, the bus is reasonably priced. Exact fare is required; you can pay cash or use a Go card. Monthly passes are a future possibility.
Information about the Fredericksburg-Richmond commuter bus (GRTC route 96) is available on the GRTC website or by phone at (804) 358-GRTC.
Note: this bus service has been discontinued.
---
Fred of the Future
By Steve Dunham
This column appeared in the Fredericksburg, VA, Free Lance–Star on May 29, 2005, and is reproduced with permission.
Fredericksburg Regional Transit could play a bigger role in meeting the area's transportation needs.
Right now, the local bus service is geared toward providing an alternative for people who have no other way to get around. Fred could grow beyond that, into a system that serves more residents and visitors alike.
Most of the development in the Fredericksburg area has assumed that people will go everywhere by car. If you don't own a car or can't drive (being, for example, too young or physically unable to), you will find it difficult to get around, unless you want to go where and when Fred goes.
The service Fred does provide offers a transportation choice for people who have few or no choices. It can take you to shopping centers, medical offices, and government offices that can be hard to reach otherwise. It can get you across hazardous barriers to walking, such as the U.S. 1 Bypass, State Route 3 and the Blue & Gray Parkway. It can save you from long walks in bad weather.
I've ridden Fred many times when I didn't have a car available. Sometimes, I didn't ride Fred; I walked, because the next bus didn't come for two hours—or two days.
When I've had a car, I've driven, because Fred service is generally so skimpy. Fred doesn't offer an attractive choice to people who have a car.
Most of the routes run every two hours—or less often. The bus-stop signs don't indicate where the buses go or when, so you have to research or memorize the schedules before making a trip. Most of them have no shelters, so you might avoid a walk in the rain, but usually you will have to wait in the rain.
And, except for Fred Express, which connects the University of Mary Washington with downtown, Spotsylvania Mall and Central Park during the school year, Fred doesn't run before 8 a.m., after 8 p.m., or on weekends and holidays.
All those things could be remedied, making Fred more useful to more people. Here are three roles Fred could step into next: Get people to and from Virginia Railway Express. Give people an alternative for traveling to congested areas, such as Central Park, Spotsylvania Mall and downtown. Make it easier for tourists to visit Fredericksburg by train.
Some people walk to the Fredericksburg railroad station, some people bike, some carpool, and a huge number drive alone. There isn't enough parking for the drivers, and there isn't going to be any more parking.
If Fred ran early enough and often enough, it could get people to and from VRE. Fred should be able to achieve this soon. Instead of having the first buses arrive downtown after 8 a.m., when the last VRE train has already departed, on weekdays the Fred routes that go near the station could start running at 6.
The buses that don't serve the station could operate on routes that do and provide more frequent service during the rush hour. These rush-hour trips could also stop at remote commuter parking lots near Interstate 95.
More frequent service is needed in the evening, too, but this will be harder to provide, because most of the buses are in use then. But I believe that demand is building for bus service to and from VRE.
Fred buses do go to Central Park, Spotsylvania Mall and downtown during the times when a lot of people want to go—at least on weekdays. They don't go often enough to be an attractive choice. You don't want to finish shopping and then wait 45 minutes for the next bus.
If there were buses every 15 minutes every day, people would ride the bus just to avoid driving in the traffic. This would be a natural expansion of the Fred Express service.
It would also encourage tourists to visit Fredericksburg by train. Amtrak schedules are convenient for day trips (or longer visits) to Fredericksburg from Northern Virginia, Richmond and Hampton Roads. Getting beyond downtown is not so easy if you arrive by train, even on a weekday, and pity the presumptuous traveler who arrives in Fredericksburg on a Saturday and stands at a bus stop near the station.
The hotels are remote, as is the Spotsylvania battlefield, but they could be easily reached by an expanded Fred weekend service. Once the city has a downtown hotel, it will give visitors one more reason to arrive by train, boosting local business without adding to traffic congestion.
In the future, visitors and residents alike will stand at the bus stop and board a bus within 15 minutes. They will ride around downtown, they will go shopping and they will visit the Fredericksburg battlefield. They will come back. And they will tell their friends. That's the Fred of the future.
---
Riding Hampton Roads Transit
By Steve Dunham
This column appeared in the Fredericksburg, VA, Free Lance–Star on Oct. 3, 2004, and is reproduced with permission.
The bus was right on time, and it went almost straight to my destination, at an average of ten miles an hour, and I couldn't see out the window. This was my first ride on Hampton Roads Transit. As the Fredericksburg area grows, a look at the good and bad points of public transportation in the Hampton Roads area may help us create a better system of our own.
My introduction to Hampton Roads Transit really began with the Amtrak timetable. Two trains a day travel from Fredericksburg to Newport News, with a connecting bus to Norfolk and Virginia Beach. The stop in Norfolk was "City Parking Lot #39." I decided to use the "Bus Station" in Virginia Beach instead. I imagined it would have a waiting room, restrooms, timetables, and a ticket counter.
A visit to the Hampton Roads Transit website (www.hrtransit.org) showed a bus route running every half hour from that bus station to the vicinity of my motel about nine miles away. Except for a single detour into an office park, the bus line went straight out Virginia Beach Boulevard, so I was surprised to learn that the ride would take nearly an hour.
From the Amtrak connecting bus, I saw that City Parking Lot #39 in Norfolk was not a bad destination—close to downtown, with a Radisson hotel a block away. When we reached the "bus station" in Virginia Beach, I asked myself, "This is it?" There were two plastic shelters, a few benches, some flowers and flags, and, yes, that was it. No waiting room, restrooms, timetables, or ticket counter. It was conveniently located, though, just over a block from the city's concrete "boardwalk" and the numerous hotels that line the oceanfront.
When my bus arrived right on time, I asked the driver to let me know when we got to Newtown Road. I would need help, because not only was I unfamiliar with the area, but the bus was wrapped in a plastic sheet of advertising, and I could not see out any windows except the front. On my return trip two days later, the bus I rode had clear windows, and I had no trouble finding my way. My advice to Fred: never cover the bus windows with advertising. The revenue cannot be worth the inconvenience to passengers.
Another drawback to Hampton Roads Transit is that, like Fred, most of its bus stops are just a sign by the side of the road—no benches, no shelters, no indication of which bus route stops there or when. I was traveling in Virginia Beach during mild, sunny weather. Waiting for a bus on a chilly, rainy day would be unpleasant. This may partly explain why Fred and Hampton Roads Transit, at least in Virginia Beach, seem to be patronized mainly by people who cannot afford a car. This is only a partial explanation, however, because Hampton Roads Transit runs fairly frequent service seven days a week.
A plus about Hampton Roads Transit is that many of its lines, unlike a lot of meandering Fred routes, follow main streets straight from one area to another. And while the route system in Virginia Beach is modest, there is a comparatively dense network of bus routes in the other cities—Norfolk, Portsmouth, Chesapeake, Suffolk, Newport News, and Hampton—served by Hampton Roads Transit. It is truly a regional system, and Hampton Roads Transit wants to build a light rail line along a little-used railroad that goes through the heart of Norfolk and Virginia Beach, eventually extending the line across the James River to Newport News. The faster service provided by an electric rail line on its own right of way could attract a larger cross-section of the population and benefit residents as well as visitors.
As the Fredericksburg area grows, so will our need for a good public transportation system, one that provides an attractive service not only for those who can't afford a car but for the thousands of people making daily local trips in our area. To take Fred to this level will require faster, more direct service; more frequent service, seven days a week; more bus stops that provide shelter from the weather; and keeping those bus windows clear.
---
By Steve Dunham
This column appeared in the Fredericksburg, VA, Free Lance–Star Nov. 11, 2001, and is reprinted by permission.
When the exploding jetliner shook the Pentagon on Sept. 11, Dash, as the Alexandria Transit bus system is known, went on alert. As soon as news of the attack arrived, someone was on the phone to the City of Alexandria command center, asking how Dash could help. It was less than an hour before a call came for assistance.
Alexandria Transit sometimes gets calls for help during major emergencies, explained Sandy Modell, the general manager of Alexandria Transit. When firefighters spend hours battling a blaze, for example, a bus on the scene can serve as a portable rest shelter for rescue workers. At other times, as on Sept. 11, Dash provides emergency transportation. Alexandria firefighters—but not all their vehicles—were needed at the Pentagon. The city command center asked for three buses to transport the firefighters, who were assembling at one of the firehouses, to the Pentagon and to serve as emergency ambulances if necessary.
"Dash people immediately volunteered," said Modell. "I was very proud of our people." The volunteers would be needed, because the command center's request was only the first call for assistance that Dash received that day. After they delivered the firefighters, the buses sent to the Pentagon weren't needed as substitute ambulances, but there was a lot more emergency transportation required.
Amtrak and Virginia Railway Express trains leave Washington for Virginia via a tunnel under First Street on the east side of Capitol Hill, and the Secret Service closed the tunnel and sent agents through it to inspect it, stopping passenger train service till mid-afternoon. At the same time, the Washington Metro stopped operating its Yellow Line across the Potomac because it crosses the river on a bridge under the flight path of planes entering and leaving National Airport. The rail service disruptions left thousands of passengers stranded in Washington. Dash sent about six buses to Washington Union Station to bring people to King Street station in Alexandria.
Dash is a small system, with 49 buses and about 70 drivers, so it doesn't have a lot of surplus capacity. However, the attack occurred just as many buses were returning to the garage after the morning rush hour. The maintenance department took 15 to 18 buses, ran them through the service lane, gassed them up, and had them ready for service in one hour, said Modell.
Even more buses were needed. Although Metro was operating at King Street, Amtrak was not, and all but one of VRE's trains were in Washington, unable to leave. The conductor of one Amtrak train asked Dash to provide transportation to Richmond, and VRE, using its one train as a shuttle between Alexandria and Manassas, asked for buses to take its passengers to stations on the Fredericksburg line. Modell was reluctant to send buses as far away as Richmond—she would need them for the evening rush hour—so she called Greater Richmond Transit, which agreed to send a bus to Fredericksburg. Soon six Dash buses were shuttling between Alexandria and Fredericksburg, and when the Amtrak passengers arrived in Fredericksburg, they had to wait only minutes before the Richmond bus arrived to take them the rest of the way.
Although Dash turned in a creditable performance on Sept. 11, Alexandria Transit is looking at ways to do better the next time an emergency call for help comes. For example, "communication was a problem," noted Modell. Dash buses are equipped with radios, but with cell phones not working, there was some difficulty reaching off-duty employees, although employees who had the day off were calling headquarters or just showing up.
Meanwhile, Dash is back to its ordinary business of carrying passengers seven days a week. VRE passengers ride free with a validated ticket. For information on Dash routes and services, visit the Dash website at www.dashbus.com or call (703) 370-3274.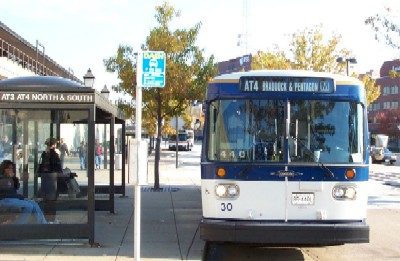 A Dash bus leaves Braddock Road Metro station for the Pentagon.
Photo by Steve Dunham, copyright 2001.

Return to the home page]
---
Hollow Man at the Bus Stop
By Steve Dunham
This column appeared in the Fredericksburg, VA, Free Lance–Star Feb. 4, 2001, and is reprinted by permission.
Sometimes when waiting for a bus I seem to become invisible. Maybe someone (possibly at work) came up behind me and injected me with the serum that makes me into the Hollow Man. That might explain why a bus would go right on by. It's been happening often enough to be uncomfortable. Once a month is uncomfortable, especially when the one that passes by is the last bus.
The first incident of being left behind happened in October, up in Baltimore. One of my sons and I were in line for a Greyhound to Philadelphia. When we got up to the gate, the driver informed us that he had one more seat. We let the woman behind us have the seat, and we had to wait two and half hours for the next bus. We were first in line for that one.
That case involved lack of capacity, though, not invisibility. The next time was in November, right here in Fredericksburg. I was standing on the curb at a Fred bus stop, waving at the last bus of the evening, and watched it go right on by.
Come December, in Arlington, I was at the opposite end of Crystal City from where I work, having just visited the credit union. Right outside the credit union was an Arlington Transit bus stop, with the schedule clearly posted: buses every ten minutes until 9:30. It was about 9:25, and so I expected one more bus, and sure enough, after a few minutes it came around the bend and drove right past the bus stop without even slowing down.
This changed my habits at the bus stop. Now I stand in the road and wave at the bus, figuring I will get a ride in the bus or a ride in an ambulance, but at least I will get a ride. Even this is scarcely effective. One evening I was standing in the road waving at an approaching Fred bus, and the driver screeched to a halt some distance beyond the bus stop.
By now you've gotten the impression, I'm sure, that taking the bus can be dicey. Those of you who are regular bus riders are aware of this already. The fact is that many bus lines leave a lot of effort up to the passengers. At few Fred stops will you find a schedule or even an indication as to which routes stop there. Although Metro posts bus schedules at many of its stops, the schedules may be as much as five years old, as I found out last month in Shirlington. Fortunately I had a current schedule in my pocket, but a casual passenger who walks up to the bus stop would have no easy way to discover when the next bus is due.
It also can be difficult to tell whether the bus has gone by. It's not unusual to be the only person waiting at a Fred stop, and if you arrive just about when the bus usually goes by but don't see it, you have no way of telling whether you've missed it.
Also, bus routes themselves change. Metro, for example, changes some of its routes each year, and tries to inform all the regular riders by posting notices. If you're not a regular rider, though, you risk waiting for a bus that doesn't exist any more, and the schedule at the bus stop might be five years old and have the wrong information.
The bus stops are not always where they are shown on the map, either. On my visit to Shirlington, I found out that the bus stop was half a block from the intersection listed on the Metrobus schedule—and I had to look down three streets from the intersection before I found it.
Finally, there's the matter of shelters. They're rare on Fred. Even the Metro Shirlington bus stop, which serves several bus routes, has no protection from the weather, and that's not unusual.
To be an attractive part of the public transportation network, and not just a last resort for the desperate traveler, the bus systems in the region need a lot of improvement. Publicly posted, up-to-date timetables are basic. Waiting areas that don't require passengers to stand in the rain, wind, or summer sun are simple amenities that few other modes of transportation lack.
Then, when the bus does come, it needs to stop for anyone waiting at the bus stop. Drivers, if you see only empty clothes waving at you, please stop for me, the hollow bus rider.